Barbeque Grills are Quite Capable of Performing as Smokers
---
Barbeque grills are almost a necessity in today's households.The warm weather beckons us outside to cook outdoor favorites such as hamburgers, hot dogs, ribs, and chicken.
For the real barbeque chef a grill is another tool to amaze and tantalize guests with his wizardry of outdoor cooking.
We have already pointed out that a barbeque grill can serve as a smoker and do a pretty decent job.
In fact, some of the recipes on this site are probably better done on grill than a dedicated smoker.
That said, how do you chose a barbeque grill? Deciding on a grill choice is not always straightforward. You have to chose based on the type of fuel used in the grill.
The primary choices are charcoal and gas grills.
---
Charcoal Grills: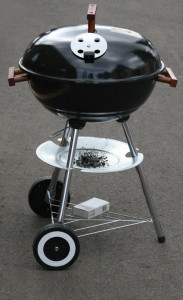 I don't think anything beats a charcoal fire. The flavor of meat cooking on a charcoal grill is exceptional and cannot be duplicated with a gas grill. A Weber grilll falls into this category and make an excellent choice for a charcoal grill.
Sometimes charcoal is difficult to light but the problem is easily solved with the right tools. A charocal chimney starter is the ideal tool but a small propane torch also does a good job.
Construction should be of high grade steel preferably enamel coated.
Grates should be made of stainless steel for easy cleaning.
The cooking surface should be large enough to with both direct and indirect heat.
The food grate should have a hinge so that it can be opened to add charcoal during cooking.
Wooden handle are convenient for avoiding burns
---
Gas Grills:
The construction should be of high grade steel. Many of the best are stainless.
The burners should have angled metal bars, lava rocks, or ceramic briquettes to distribute the heat.
Look for good control of the burners with precision dials
A reliable and maintainable ignition system is a must. You want to be able to observe the ignition easily so that you will not have to guess if the grill is lit.
Look for good design for fat drainage. Gas grills are notoriously susceptible to flare ups over burners.
Barbecue Grills and More – Find the best prices for Electric, Charcoal and Gas Grills. Shop from over 200 grills including Weber and Broil-King Brand products. Find every grill accessory known to man. Visit BarbecueGrillsandMore.Com Today and Save!
---