Sweet Potato Cheesecake
---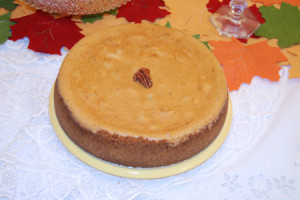 You are gonna hurt yourself with this dessert. It is derived from a favorite of southern style cooking, Sweet Potato Pie, only it's a cheese cake. If you like both types of dessert then you will like this recipe. This cheese cake is better than the varieties of Cheesecake Factory™. That is how good it is. Please try it and tell us what you think on the blog.
Crust Ingredients
¾ cups plain graham cracker crumbs
¾ cups cinnamon graham cracker crumbs
4 Tablespoons sugar
1 stick butter, melted
Filling Ingredients
3 packages (8 oz cream cheese) room temperature
5 eggs room temperature, lightly beaten
½ tablespoon vanilla
2 cups mashed cooked sweet potato
2 teaspoons cinnamon
¼ teaspoon ground nutmeg
1 ¾ cups sugar
2 teaspoons rum extract
½ cup sour cream
½ cup toasted pecans, roughly chopped
pinch salt
---
Directions
Preheat the oven to 350 degrees.
To make the crust, combine the graham crackers, sugar, and melted butter until moistened.
Pour into a 10 inch spring form pan.
With the back of a measuring cup, press the crumbs into the bottom of the pan and about 1 ½ inch up the sides of the pan.
Bake for 9 minutes.
Cool to room temperature.
Wrap the outside of the spring form pan with foil and place in a roasting pan.
Bring a tea kettle of water to a boil.
With a mixer beat the cream cheese until smooth.
Scrape down the sides of the bowl and add the sugar; beat until light.
Beat in the sour cream, then add the sweet potatoes, eggs, vanilla, salt, and spices until just combined.
Stir in pecans and rum extract.
Pour into the cooked crust.
Directions Part 2
Gently place the roasting pan in the oven and pour the boiling water into the roasting pan until it comes about halfway up the side of the spring form pan.
Bake until the outside of the cheesecake sets but the center is a little loose about 1 hour 45 minutes.
Turn off the oven and open the briefly to let out some heat.
Leave the cheesecake in the oven for 1 hour., then carefully remove from the roasting pan and cool completely on a rack.
Run knife around edges and cover with plastic wrap.
Refrigerate at least 8 hours.
Bring cake to room temperature before serving.
Unlock and remove the spring form ring.
Serve.
Enjoy!
Return from this page toBarbeque Sauces page
Return from this page to Backyard Smoker Barbeque Chef home page
---